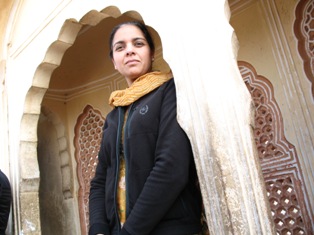 If you love Indian food, you'll feel right at home here. Here you will find recipes that are most reliable, true and tried from scratch for many years. Whether you are beginning to learn to cook or you're a seasoned cook, you will find recipes to satiate your appetite and your passion for cooking.
In this blog, you will find recipes that are authentic as well as recipes with an added twist to enhance the taste. The step by step process of each recipe with real photos will guide you at every step of your cooking journey. Lots of thoughts and details are put into creating each step to make sure that the dish you create will exceed your expectations and you will feel very proud to share it with your family and friends. The spice level in the savory dishes is kept to the medium level; however, it can be easily toned down for kids or food lovers with low tolerance to spices; or can be increased to satisfy the fiery taste buds.
One of the most amazing qualities of this blog is that you will not have to shop for hundreds of strange expensive spices to cook a dish. With a few simple spices, you will be able to create tasty, flavorful dishes for every meal of the day. The spices in my recipes are used to enhance the flavor of the main ingredient; not to overpower it. In this blog, I will share Punjabi Indian recipes as well as recipes from other cuisines that I cook at home for my family.
How was this blog born?
As much as I love cooking, I love reading about food. I read recipe books like a novel and flip to the cooking section in a magazine as soon as I get my hands on it. I find it so therapeutic to look at beautiful food photos. Today, in the internet age, I surf cooking sites or food blogs. It never occurred to me that I could have my own blog too. Then one day it did (not sure how) and with the encouragement from family and friends, I took that step. My biggest supporters are my husband, my son and my friend Alena. Without them, I could not have done it. This blog is a great medium to unleash my passion for cooking and share the recipes that we enjoy all the time, with other food lovers around the globe.
By now, you probably want to know, who am I?
My name is Raj (Rajvinder in full). I am the creator, author, recipe developer and; amateur photographer and food stylist behind this blog. I am not a pro photographer by any means. This is the first time I actually paid attention to what I was seeing when I looked through the camera lens. Before that whenever I had to take a picture, I just made sure that the image fits in the four corners that appeared in the camera viewfinder and pressed the round button under my forefinger. I am an avid gardener. I love to grow my own food as much as possible. I will post photographs from the garden as well. Apart from that, I am a loving mother of a brilliant young boy and a wife of a very noble man. I am a Business Analyst by profession and a Reiki Master by divine guidance.
I was born and raised in a tiny village in Punjab, India. Most people, when they think or hear about India, they get visions of elephants or snake charmers, but India is a lot more than that ….. Put your shoes on! Come with me and let me take you on a journey to a very beautiful place in India called Punjab, my homeland!
Punjab …. a land of five rivers – Satluj, Beaas, Ravi, Chenab and Jehlum. The invigorating and culturally rich state is situated in the northern part of India. The unique culture, festivities, and spirit of the people from this land make them renowned not only in India but the world. Punjab's dance (Bhangra), music, traditional dress, traditional wedding and cuisine are one of the most distinguished ones in the world. Punjab is very popular for its rich food. The cuisine of Punjab is much loved by not only Indians but people around the world. It has an enormous variety of mouth-watering vegetarian and non-vegetarian dishes. Punjabis are really lively and open-minded people who are extremely fond of good food and take pride in the hospitality of their guests. If you are ever going to visit a Punjabi family, make sure you have lots of room in your stomach.
Punjabi cuisine is simple, healthy and delicious. Punjabi home cooking concentrates mainly on using whole wheat, rice and curry dishes prepared in delicious thick sauce and fragrant spices. Chicken, Chholey Bhature, Matar Paneer, Naan, Pakoras, Samosas, Gulab Jamun and Lassi are popular dishes of Punjabi cuisine. The "Sarson da Saag" (a mixture of mustard leaves and spinach) and "Makki di Roti" (Corn flatbread) is a staple of Punjabi cuisine. It is a very popular winter meal and loved by everyone. Lassi is the favorite drink of Punjabis. It is a blend of yogurt, water and spices. The cooling and refreshing Lassi is enjoyed throughout the year, especially on hot summer days. The most important part of the Punjabi cooking is the spices and herbs like cumin, coriander, turmeric, methi leaves, cardamoms, garlic, ginger and fresh coriander to give the tantalizing flavor and rich aroma.
People from Punjab are mainly farmers. In my childhood, one of my treats was to go to the farm with my father on Sunday. I will just walk in the fields, touch the plants, feel the warmth of the sun and feel the wind caressing my face. I loved picking the vegetables, getting my hands in the dirt to pull out the carrots, listening to popping sound of the pea pods when opening and smelling the intoxicating delicate fragrance of mustard flowers… aaahh!
Thank you for stopping by and taking the time to read about me, my homeland and my passion. Hope your journey was a pleasant one.
Before you go, please do subscribe to my blog so you will not miss any of my posts.
Blessings!!
Rajvinder
www.rajskitchen.com