Chilli Chicken Recipe with step by step photos and easy to follow instructions:
Chilli Chicken – a very popular Indo-Chinese chicken made with boneless chicken, onion and sweet bell pepper chunks is absolutely delicious. Chilli Chicken is usually served as an appetizer or as a side dish with fried rice or noodles. There are two versions of the Chilli Chicken: it is either made in the dry form or with gravy. This recipe is for dry Chilli Chicken. To make Chilli Chicken, chicken is cooked separately. The vegetables are quickly sautéed and mixed with sauce and chicken.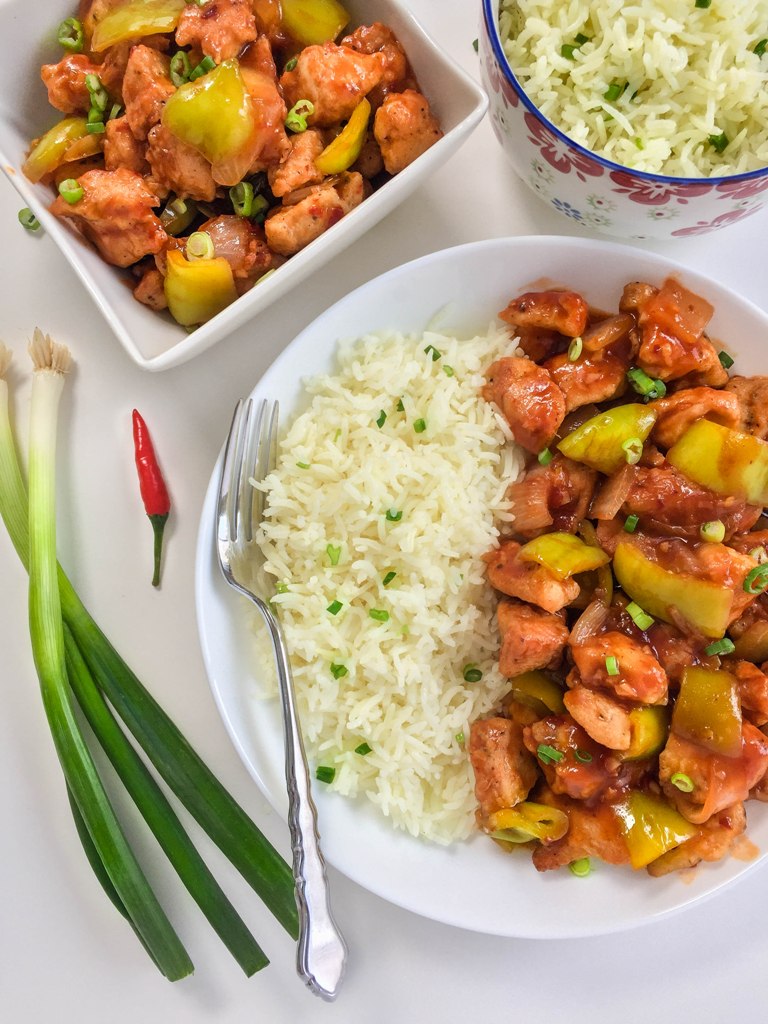 Chilli Chicken is one of many favorite dishes cooked more often at home. It is served with steamed rice or lightly fried rice. In this recipe, the boneless chicken pieces are marinated in soy sauce, ginger and garlic paste, then coated with egg and cornstarch mixture before deep frying. To make it a healthy recipe, I bake the chicken for the most part and only deep fry it for less than a minute to harden the egg coating onto the chicken pieces.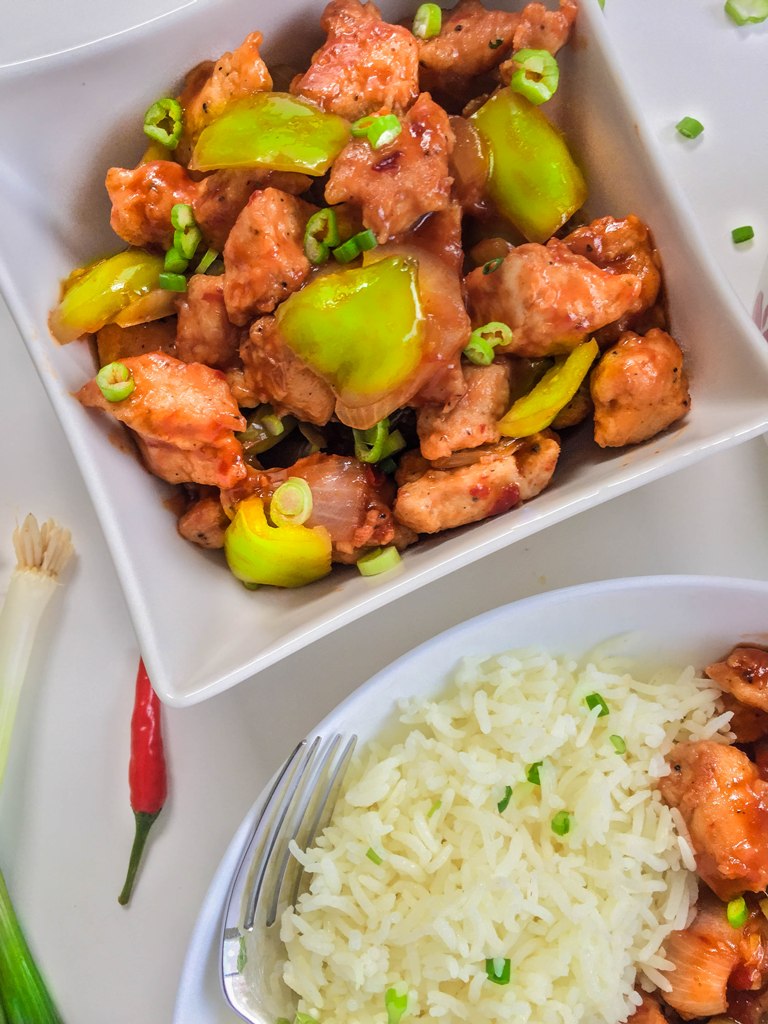 Sometimes an artificial color is added to the Chilli Chicken recipe to give it deep red color. This recipe does not require any added color or MSG (Monosodium glutamate) to enhance the taste; it is delicious without any added flavor. This recipe is great to serve at a party or make it anytime for your family. Any leftover Chilli Chicken can be wrapped in a tortilla or a pita bread to make a yummy wrap for lunch.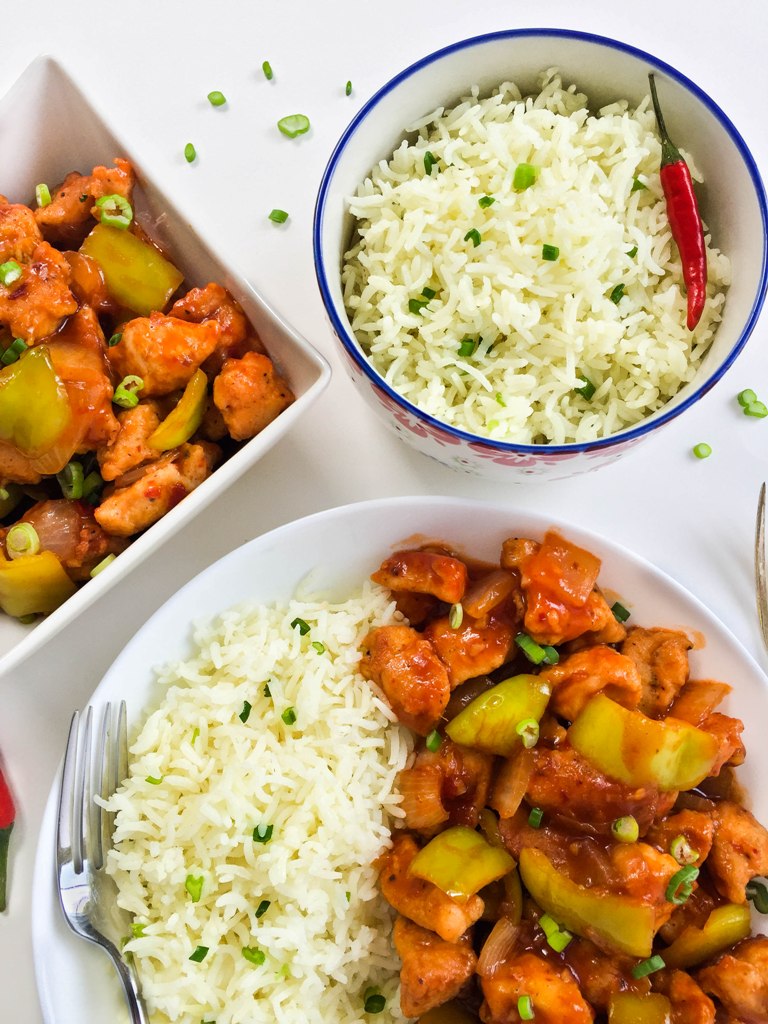 Let's make some Chilli Chicken now!!
How to make Chilli Chicken:
The first step is to marinate the chicken to add some flavor to it. Wash and pat dry the chicken; and cut into one-inch cubes. Add soy sauce, garlic paste and ginger paste.

After mixing everything, cover and refrigerate the chicken for at least half an hour. I marinate it overnight to give enough time for the chicken to really absorb all the flavors.

Prep the vegetables. Finely chop the garlic and green chilies. Cut the onion and green peppers in cubes.

It is time to cook the chicken now. Add cornstarch, salt, black pepper and an egg to coat the chicken pieces; mix well.

Deep fry the chicken in hot oil. It is important to keep all the chicken pieces separate to ensure the chicken is cooked thoroughly. Do not lump the chicken together. Therefore, when adding the chicken to the hot oil, add one piece at a time.

Cook chicken until golden brown and no pink juice running through when cut. It takes about 8-10 minutes but the time may vary depending on the size of the chicken pieces.
I only deep fry the chicken for about 45 seconds. After that, I remove the chicken from oil and put it on a baking sheet in a single layer. Bake the chicken in preheated oven at 350°F for 20 – 25 minutes. Alternatively, you can shallow fry the chicken as well.

In a small bowl, whisk together ketchup, chili sauce, hoisin sauce (you can use soy sauce) and tomato paste.

In a wok or large pan, heat oil and lightly fry the garlic. Do not let the garlic turn brown, it will change the taste of the Chilli Chicken.

Add onion cubes and sauté until translucent stirring frequently.

After the onion has sautéed,  add pepper cubes and cook only until the pepper color turns vibrant. You don't want to overcook the vegetables. They should be cooked slightly without losing the crunch of it.

Add the prepared sauce and salt; mix well with vegetables. Let the sauce cook a little before adding the chicken to it.

Now add the cooked chicken to the sauce, add lime juice and mix well to coat the chicken with sauce.

Garnish and serve hot with steamed rice, fried rice or noodles. Enjoy!!

Chilli Chicken Recipe, How to make Chilli Chicken

Chilli Chicken

Recipe type:

Main, Appetizer

Ingredients

2 chicken breasts, boneless, skinless
1 tablespoon soy sauce
1 teaspoon garlic paste
1 teaspoon ginger paste
½ teaspoon black pepper, coarsely ground
¼ teaspoon salt or to taste
3 tablespoons cornstarch or cornflour
1 whole egg
Cooking oil for deep frying
1 large onion, peeled and cut into cubes
1 large green bell pepper, cut into cubes
2 green chilies, fine chopped
4-5 garlic cloves, finely chopped
2 tablespoons cooking oil
Sauce
½ cup tomato ketchup
2 tablespoons hot garlic chili sauce
2 tablespoons hoisin sauce
2 tablespoons tomato paste
Salt to taste
1 tablespoon lime juice
Spring onion for garnishing

Instructions

Wash and pat dry the chicken; and cut into one-inch cubes.
Add soy sauce, garlic paste and ginger paste. Mix well; cover and refrigerate the chicken for at least half an hour or overnight for better results.
Add cornstarch, salt, black pepper and an egg to the marinated chicken. Mix well until all chicken pieces are coated well.
In a large saucepan, heat oil over medium-high heat. Add chicken pieces to the oil one at a time. Cook chicken for 8 - 10 minutes or until golden brown and no pink juice running through when cut.
Carefully remove chicken from the oil with a slotted spoon and drain it on a paper towel to remove the excess oil.
Prepare the sauce by whisking together the ketchup, chili sauce, hoisin sauce and tomato paste.
In a wok or large pan, heat oil and lightly sauté the garlic. Add green chilies and onion cubes. Sauté until onion are translucent; stirring frequently.
Add pepper cubes and cook only for about a minute or until the pepper color turns vibrant.
Add the prepared sauce and salt; mix well with vegetables. Let it cook for 2 minutes.
Add the cooked chicken to the sauce, add lime juice and mix well to coat the chicken with sauce.
Remove from heat and garnish with finely chopped spring onions.
Serve hot with steamed rice, fried rice or noodles.




You may also like: