Mango Mint Chutney Recipe with step by step photos and easy to follow instructions:
Mango Mint Chutney – a cool, tangy and spicy at the same time … Indian cuisine is incomplete without chutneys. Chutney is served with every meal, be it a breakfast, lunch or dinner; and the appetizers are always served with some kind of chutney on the side. We have a long range of chutneys from sweet to sour to spicy. Chutneys are made with a variety of fruits, vegetables, herbs, yogurt, dry fruits such as plums and apricots; and spices.
Mango Mint Chutney is not only tasty but a healthy condiment. Green mango contains vitamin C. Ginger is loaded with powerful nutrients, antioxidant and anti-inflammatory agents. Mint is a cool and refreshing herb. It has been used for years to promote digestion and to aid upset stomach.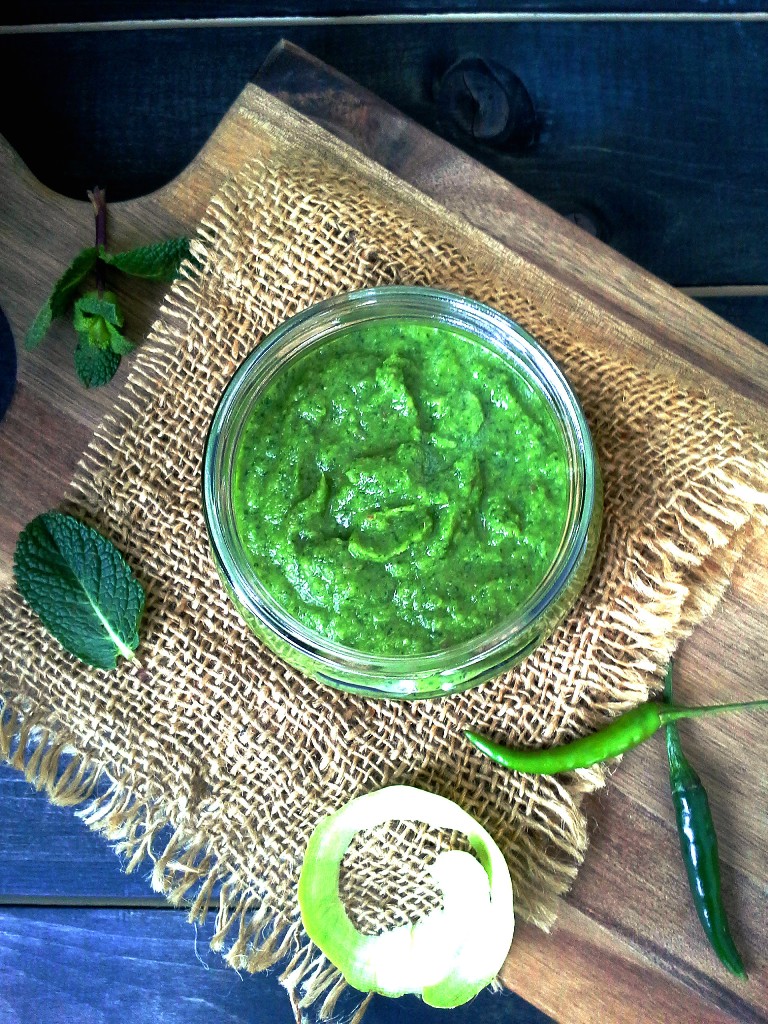 Mango Mint Chutney is made with green unripened mangoes. I believe this Chutney was invented to make use of prematurely fallen mangoes. These mangoes are very tart and cannot be eaten as a fruit. So they are generally used for making mango pickle and chutney. 
Mango Mint Chutney is served with all sort of snacks like Pakora, Samosa, Aloo Tikki, Tandoori Fish and Kebabs. It is also served for breakfast with paratha and with main course meals. Try using it as a sandwich spread to add a spicy touch to your sandwich.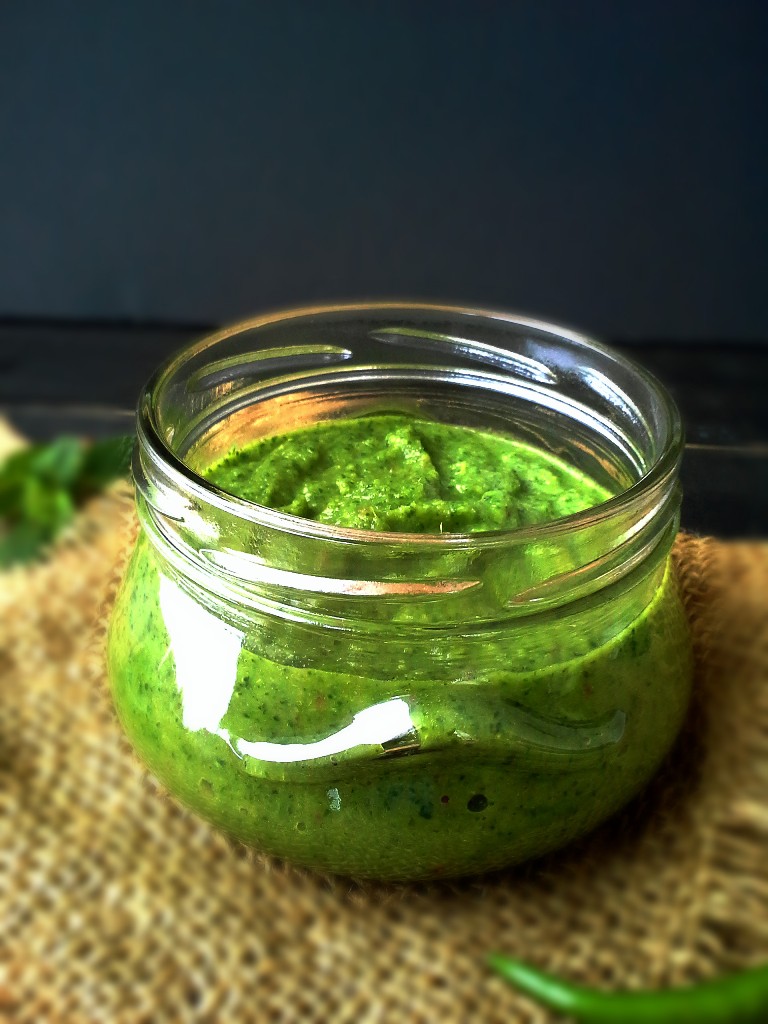 Here is how to make lovely Mango Mint Chutney:
Prepare all the ingredients beforehand. Wash the ginger (yes, I wash the ginger before peeling it), mangoes, green chilies and mint well to remove any residue. Why do I peel the mango? because the skin is tough and has a bitter taste.

First, peel the ginger and mangoes and chop it into small chunks. Now, remove the stems of the chilies. Also, remove the tough part of the mint stem. Put all the ingredients in a mixer/blender jar and blend it into a paste. Add water in small quantity if required.
Enjoy the refreshing Mango Mint Chutney with your choice of food. Store it in the fridge for up to one week.

Mango Mint Chutney Recipe, How to make Mango Mint Chutney

A cool, tangy and spicy chutney often served with savory Indian snacks/appetizers is made with refreshing mint, tart mangoes and zesty ginger.

Ingredients

1 cup green unripe mango, peeled and cut into small pieces
2 cups fresh mint
1-inch piece of fresh ginger, peeled and roughly chopped
2-3 green chilies, roughly chopped
1 tsp salt or to taste
2 tbsp of fresh lime juice
Water as required

Instructions

Wash and remove the tough stems of the mint.
In a blender jar, add all the ingredients except water.
Blend into a paste. Add water in a small quantity if required.
Store the chutney in the fridge in an air-tight jar. Keep well for up to one week.



You may also like: