Okra Sabzi Recipe with step by step photos and easy to follow instructions:
Okra Sabzi or Bhindi Sabzi, also known as Lady's Finger Sabzi – is one of the quickest and easiest curry dish to prepare with just a handful of ingredients. It is a simple yet very tasty dish that can be served for lunch or dinner.  You will find this dish on most Indian restaurants' menu but you may not get it because it is a seasonal vegetable (or it used to be). Nowdays, you can buy Okra all year round. It may be more costly during off season but it is no longer a rare vegetable. You can also buy frozen Okra at most supermarkets these days which are equally good.
Growing up, Okra was one of my favorite vegetables. I never seemed to have enough of it. Freshly picked Okra from the farm, cooked in fragrant mustard oil with sautéed onion … I could hardly wait to get home after school to indulge into Bhindi Sabzi with buttery parathas.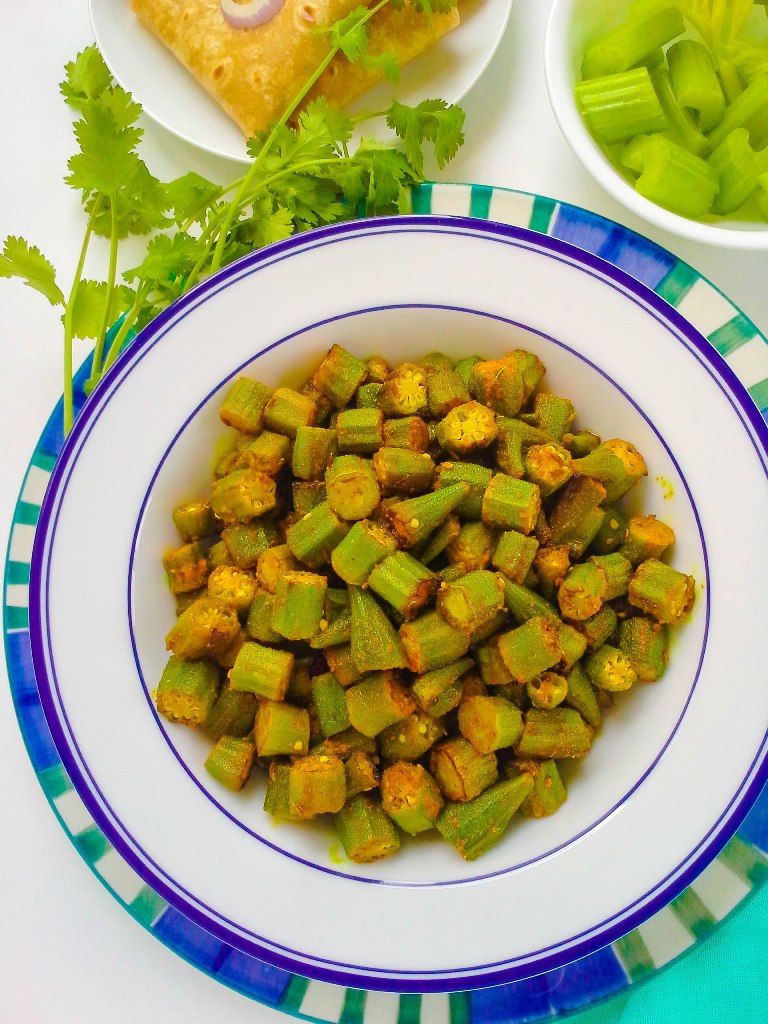 Okra can easily turn people down if not cooked properly. Slimy, mushy Okra are not very appealing. The trick is to get as fresh Okra as you can and make sure they are free of any moisture. After washing, let the water dry out completely. Wipe the Okra with a clean dry towel or paper towel before cutting. Never wash the Okra after cutting.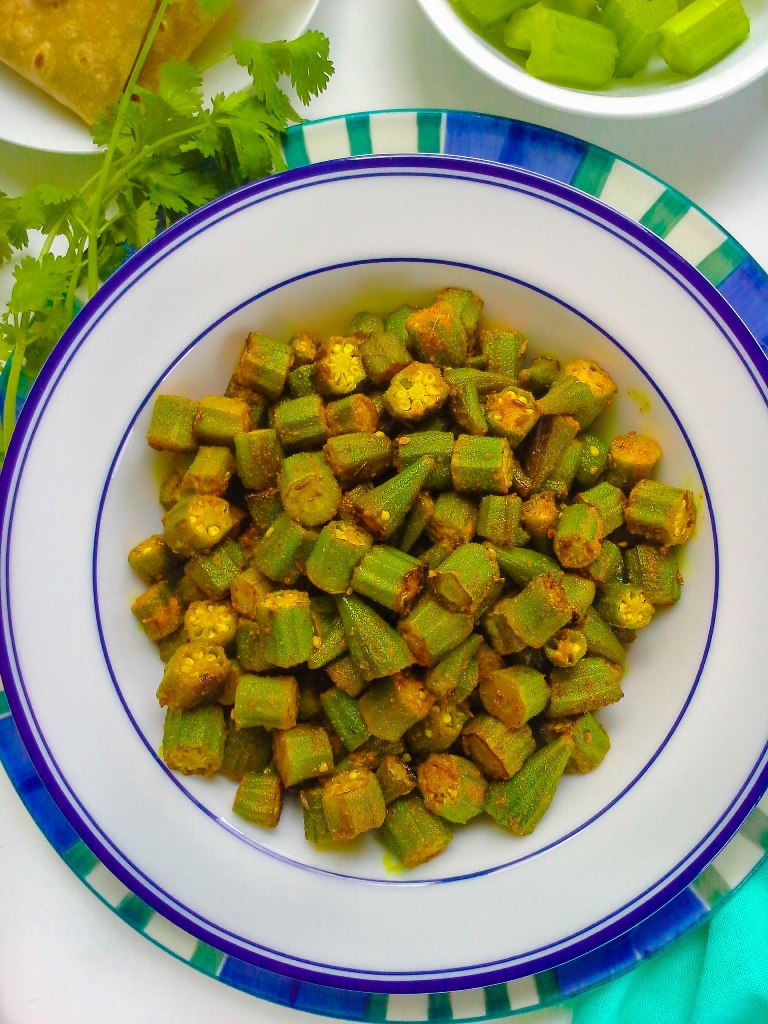 Okra Sabzi is best made with tender young Okra. The young Okra are less slimy and cook well compared to the large matured Okra. Large Okra has tough pods and seeds. They may be better suited for other types of recipes but for Bhindi Sabzi, choose young tender okra; the smaller the better.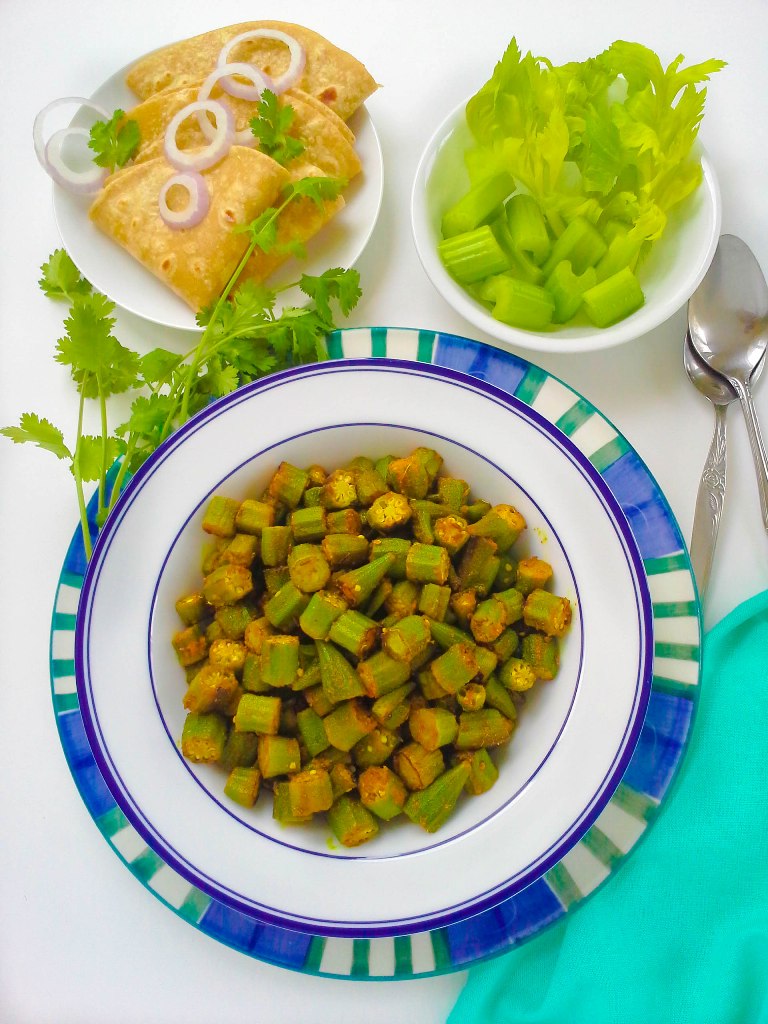 Now, let's learn to make Okra-Bhindi-Lady's Finger Sabzi and I will show you some more tricks to cook perfect Okra.
How to make Okra Sabzi or Bhindi Sabzi:
It is always a good practice to wash your vegetables when you bring it home from the supermarket. So wash the Okra and dry it out completely with a clean dry towel or paper towel.




Tip:

If the Okra is wilted, wash the Okra. Do not dry. Wrap the wet Okra in a towel. Put it in a plastic bag and store it in the refrigerator for 6-8 hours. The Okra will be tender and crisp.


 
Remove the head of the Okra. The head does not cook well. You can cut the tail part if you want. I, sometimes, cut the tail, other times, I just leave it. Your choice to keep it or not. Cut the Okra into ½ inch pieces.


In a saucepan, add cooking oil. Let the oil heat up a little. Carefully, add Okra to the hot oil.

Gently tilt the pan to coat the Okra with oil. Sauté the Okra on high heat to cook away all the goo.



The best way to cook Okra is using a Non-stick pan. The moisture evaporates quickly in a Non-stick pan which helps eliminate the slime in Okra.




Add juice of ½ lime or lemon to the Okra to reduce the slime.


Cooking oil – I use mustard oil for cooking Okra. Mustard Oil has a very distinctive and pungent taste which goes very well with Okra flavor. If Mustard Oil is not for you, feel free to use cooking oil of your choice.  
Once all the goo is cooked and Okra are nicely sautéed, add all the spices.

Do not add the spices while the Okra are still gooey. The spices will not distribute properly. It will just lump up with the goo.

Gently shake the pan to mix the spices well with Okra.


Cover and cook over medium-low heat until Okra are cooked completely. Check frequently to see if moisture is building up in the saucepan. If so, then remove the lid and let the moisture dry.

Enjoy the Okra – Bhindi Sabzi with

Roti

, Naan or

Paratha

and cool Raita on the side.

Okra Sabzi Recipe, How to make Okra Sabzi

A simple and mouth-watering okra cooked in aromatic spices and tangy amchoor powder served with roti and raita makes a perfect meal.

Recipe type:

Main - Vegetarian

Ingredients

2 lbs okra, bhindi or lady's finger
3 tbsp mustard oil (use any other cooking if mustard oil is not available)
2 tbsp olive oil
½ fresh lime
½ tsp cumin powder
2 tsp coriander powder
1 tsp turmeric
½ tsp red chili powder
½ tsp amchoor powder (dry mango powder)
¼ tsp garlic powder
1 tsp salt or to taste
1 green chili, finely chopped

Instructions

Wash the Okra and dry it out completely with a clean dry towel or paper towel.
Remove the head of the Okra. Cut the Okra into ½ inch pieces.
In a saucepan, add cooking oil. Let the oil heat up a little. Carefully, add Okra to the hot oil.
Add juice of ½ lime or lemon to the Okra to reduce the slime.
Once all the goo is cooked and Okra are nicely sautéed, add all the spices. Mix the spices well with Okra.
Cover and cook over-medium low heat for about 15 minutes or until Okra are cooked completely. Check frequently to see if moisture is building up in the saucepan. If so, then remove the lid and let the moisture dry.
Serve hot with Roti or Naan.

Notes

Amchoor (dry mango powder) - Unripe green mangoes are dried and powdered to make amchoor powder, available at most Indian grocery stores.




You may also like: