Crispy Onion Pakora – Onion Bhaji Recipe with step by step photos and easy to follow instructions:
In the cold winter days, when your bones are chilled with cold damp air, the fresh Onion Pakora accompanied by a hot cup of Masala Chai will warm up your soul. These simple and delicious Onion Pakora are so easy to make for a snack or an appetizer. The Onion Pakora are tasty morsels made of sliced onions bound together with fragrant besan (chickpea flour) and aromatic spices. These lightly spiced and crispy onion fritters are served with sweet and tangy tamarind sauce are everyone's favorite snack.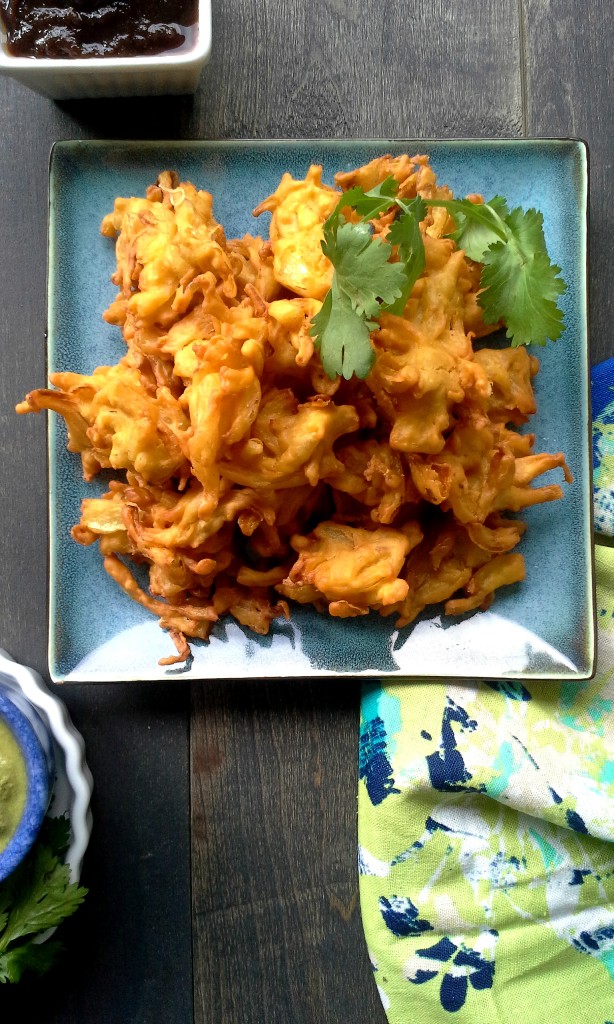 Although chances are slim that there will be any leftover from these Pakora, it can be used to stuff the pita pocket with crisp lettuce, thinly sliced cucumber and drizzle with creamy ranch dressing for a quick tasty lunch or late night snack or better yet, pack it as a school lunch for your little darlings. Believe me, their friends will be peeking into their lunch boxes every day.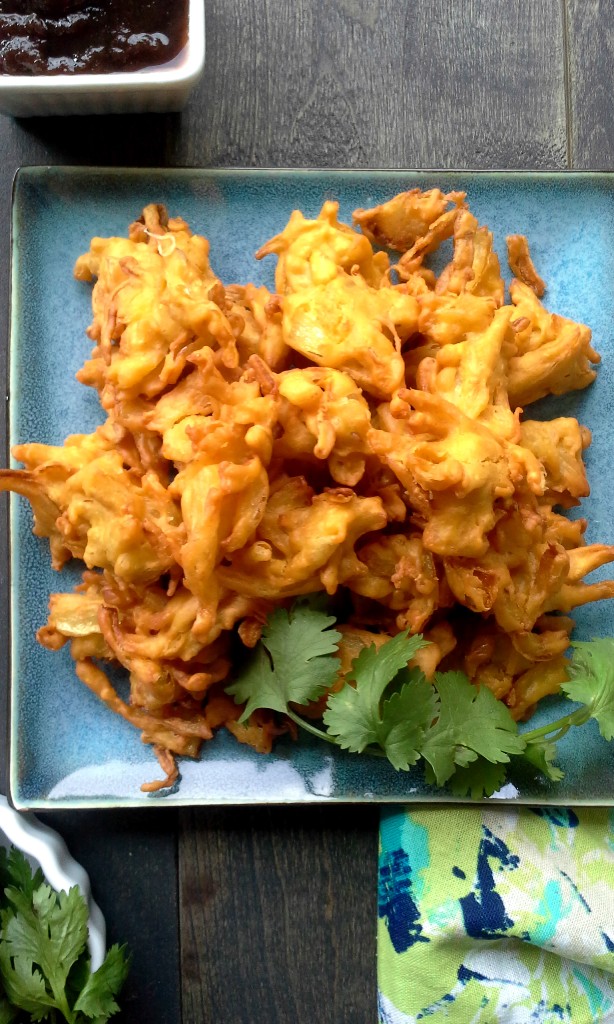 How to make Crispy Onion Pakora:
Measure and prepare all the ingredients beforehand. The ingredients used to make Pakora are very basic and can be found in your pantry any day of the week.
Peel and thinly slice the onions. I prefer to use white or yellow onion. Red onion has very deep color and sometimes leave the purple hue in the batter. Separate all the slices of the onion to prevent any big lumps of onion. Separating the slices of onion will produce more crispier and flavorful Pakora because each slice of onion is smothered with spicy batter and will be full of flavor when cooked.

Now, in a medium bowl whisk besan, rice flour (if using) and all the spices to mix well. Add the sliced onion and mix well but gently.
Add water little by little to create a pancake-like batter. The batter should not be runny as it will not hold the shape when added to the hot oil. The batter should not be too thick either, the Pakora will not crisp up and it will taste very doughy. The consistency of the batter is important but don't be disappointed if it does not turn out to be right at the first try. Try again, generally, by the second or third try, you will make perfectly crispy pakora.

Heat oil in a wok or kadhai. The oil should be hot but not smoky hot. If the oil is too hot, the Pakora will quickly burn from the outside but will remain uncooked from inside. If the oil is not hot enough, then Pakora will spread in the oil and absorb too much oil. The best way to check the oil temperature is to add just one Pakora to the oil. If the Pakora floats to the surface quickly without turning brown right away, then it is a green signal to go ahead and add more Pakora to the oil. Be careful not to add too many Pakora at once as it will bring the oil temperature down and turn the Pakora very soft.

When the Pakora are firm from one side; turn the Pakora once and cook it for about one minute before removing it from the oil. Keep each batch of Pakora separately in a single layer. This will keep the Pakora in shape. If you pile up Pakora on each other, it will press down the Pakora.
Now starting with the first batch, re-fry the Pakora. Why re-fry it? The Pakora will be much crispier when fried for the second time. This time fully cook the Pakora until golden brown on all sides. Pakora will feel light and sound hollow when cooked thoroughly.
Remove the Pakora from oil with slotted spoon and drain it on a paper towel to remove excess oil. Onion Pakora are best served with Imli Ki Chutney or Pudina Chutney.
Remember to make a cup of hot Masala Chai before you sit down to enjoy your effort. Enjoy and don't forget to let me know how it tasted.

Crispy Onion Pakora - Onion Bhaji

Lightly spiced and crispy onion fritters served with sweet and tangy sauce are one of the popular snack enjoyed by all ages.

Ingredients

Ingredients
2 medium onions, thinly sliced
1 ½ cup besan (chickpea flour)
1 tbsp rice flour (optional)
½ tsp salt or to taste
¼ tsp cumin powder
½ tsp coriander powder
¼ tsp red chili powder
¼ tsp turmeric powder
Pinch of baking soda
Water as required
Cooking oil for deep frying

Instructions

In a medium bowl, whisk besan, rice flour, salt, cumin powder, coriander powder and chili powder. Add sliced onions and mix well. Add water a little at a time to create a pancake-like batter. The mixture should not be runny.
Heat oil in a wok over medium-high heat. (Follow manufacturer's instructions if using deep fryer). Gently put a spoonful of mixture into the hot oil, being careful not to overcrowd the oil. When pakora are slightly firmed, gently turn it once. Cook it for about 1 minute and remove it from the oil and keep it aside. The pakora are not fully cooked yet. Repeat the process with the rest of the mixture keeping each batch separately in a single layer after frying.
Now, take the first batch and put it in the hot oil to re-fry. Stir gently. Cook until golden brown and crispy on all sides. Remove with a slotted spoon; drain it on a paper towel. Repeat for rest of the batches.
Serve hot with Imli Chutney - Sweet and Sour Tamarind Sauce or Pudina Chutney - Green Mint Chutney.

Notes

Besan – Besan (gram flour), also known as chickpea flour, garbanzo bean flour or besan, is a pulse flour made from ground grams available at some North-American supermarkets and easily available at all Indian grocery stores.



Save
Save