Eggplant Raita – Baingan Ka Ratia Recipe with step by step photos and easy to follow instructions:
Eggplant Raita or Baingan Ka Raita – what a treat? Eggplant Raita is a simple yogurt based condiment that is generally served as a cooling accompaniment to hot and spicy Indian dishes. This raita is also very much enjoyed for breakfast with hot & crispy parathas with some mango pickle on the side.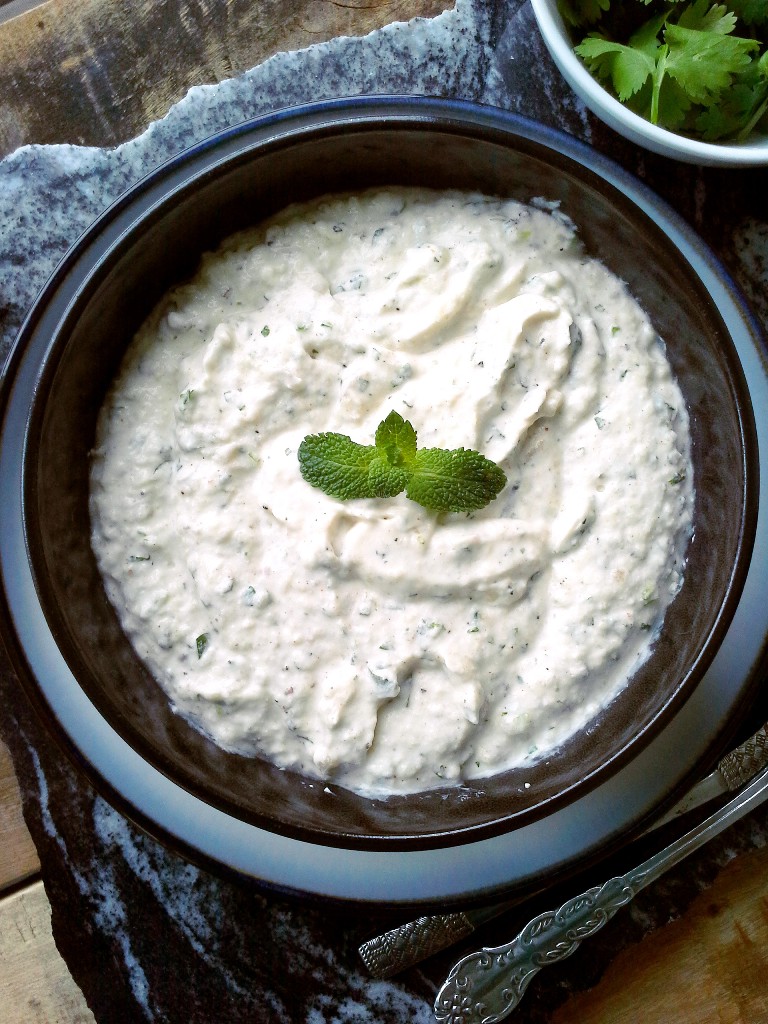 Raita is an important element of Indian cuisine. It is served not only to put off the heat from the spices and enhance the taste of the meal, but also for healthy reasons. The cumin, black salt and mint used in preparing the raita helps in digestion.
Apart from serving the Eggplant Raita with meals, it is great to serve as a dip with pita chips, naan wedges or fresh vegetables. Want to know something else?? Lightly toast some spicy papadam. Roll the papadam on the back of a wooden spoon while it is still hot to make a cylindrical shape. Dunk it in the raita and enjoy crispy, crunchy, spicy papadam with creamy, cool and refreshing raita. Salivating yet??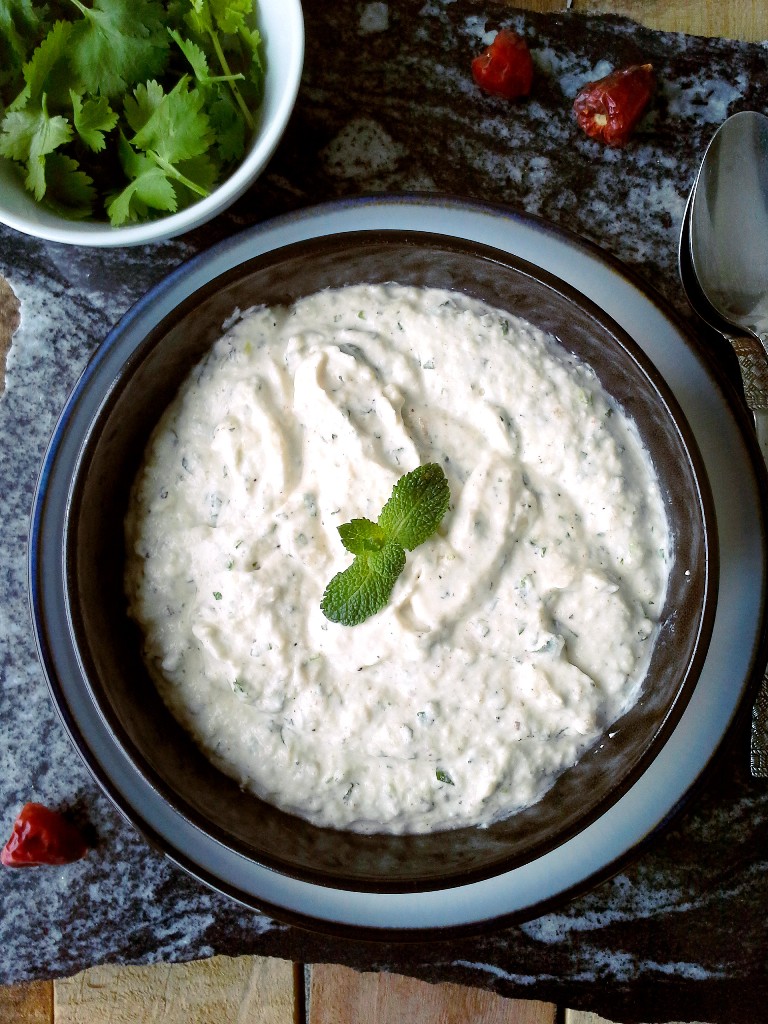 Eggplant Raita is prepared with plain thick yogurt combined with roasted meaty eggplant and seasoned with earthy cumin and cool mint. Usually, the eggplant is charred on the open fire to give it a smoky flavor which complements the fresh flavor of the yogurt. The key to good raita is to use thick yogurt like Greek yogurt because when eggplant is mixed with yogurt, it will thin down the yogurt a little. We want the raita to be nice and thick enough to be scooped with a pita chip.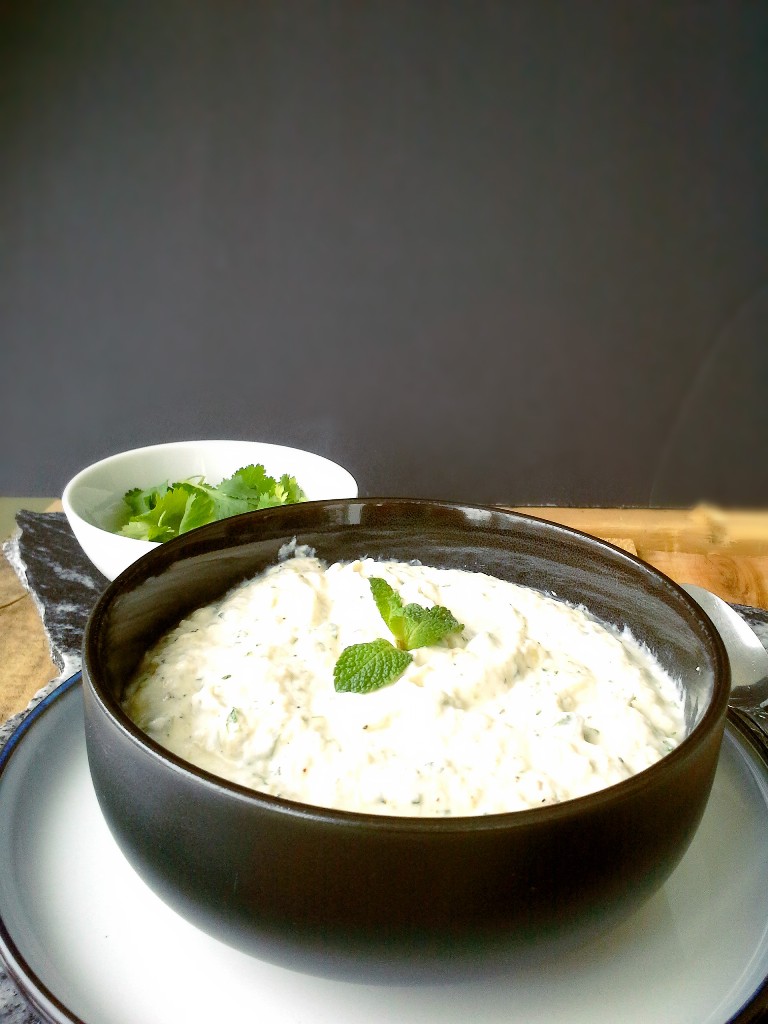 Let's make some cool and yummy Eggplant Raita. Do try this recipe and share your experience with me.
How to make Eggplant Raita:
Get a nice and plump eggplant. It should feel firm, not spongy when pressed.

With the help of a fork, poke some holes in the eggplant. This will allow the steam to escape and prevent the eggplant from exploding while cooking. I am sure some of us have experienced the eggplant explosion at some point in our cooking life.

Char the eggplant over the fire, bake it in the oven or roast it in the barbecue, whichever method works for you. Just make sure that the eggplant is completely cooked from inside. Place the cooked eggplant in a bowl, cover the bowl with a plastic wrap and let it rest until cool enough to handle. This will soften the eggplant skin and it will be easy to peel off.

Gently remove the eggplant skin. The inside meaty part of the eggplant should be all soft and mushy. If there are any large pieces of fiber left, you can either finely chop it with a knife or run it through the food processor to make a smooth purée.

Make sure the eggplant pulp has cooled completely before adding it to the yogurt. Adding hot or warm pulp to the yogurt will result in curdling the yogurt and it will ruin the dish. In a mixing bowl, add all the ingredients and mix it well to incorporate.

Eggplant Raita is ready. Keep it in the fridge until ready to serve. Raita will keep well in the fridge for 2 days. The yogurt may begin to sour after that.

Eggplant Raita Recipe, How to make Eggplant Raita

A simple yet delectable Eggplant Raita made with yogurt, smoky eggplants and seasoned with earthy cumin and cool mint.

Ingredients

1 medium eggplant
2 cups plain thick yogurt
2 tbsp mint, finely chopped
2 tbsp fresh coriander, finely chopped
¼ tsp roasted cumin, coarsely grounded
½ tsp black pepper, grounded
¼ tsp red chili powder
½ tsp salt or to taste
¼ tsp black salt (optional)

Instructions

Wash the eggplant and with the help of a fork, poke holes all around it.
Preheat the oven to 350 F. Place the eggplant on a baking sheet and cook it for about 25 minutes.
Remove the eggplant from the oven, and cover it with a plastic wrap. Let it rest until it is cool enough to handle.
Peel the skin off the eggplant and remove the pulp. Leave it aside to cool.
In a medium bowl, add yogurt, mint, coriander, cumin, black pepper, red chili powder, salt and black salt.
Add cooled eggplant pulp and mix well until all the ingredients are incorporated.
Keep it in the fridge until ready to serve.

Notes

1. The cooking time may vary depending on the size of the eggplant.
2. Raita can be served as a dip with fresh vegetables, pita chips, naan chips or nachos.


You may also like:


                                             Candied Beetroot Raita with Pistachio Nuts